Disinfection Services in Flagstaff, Arizona
The flu and other viral infections have been on the rise throughout Arizona. People have increasingly requested disinfection services to minimize the spread of viruses in Flagstaff homes and public environments. Premier Carpet Cleaning specializes in home and commercial disinfection services in Flagstaff. We comply with the CDC guidelines to kill viruses, bacteria, and other germs.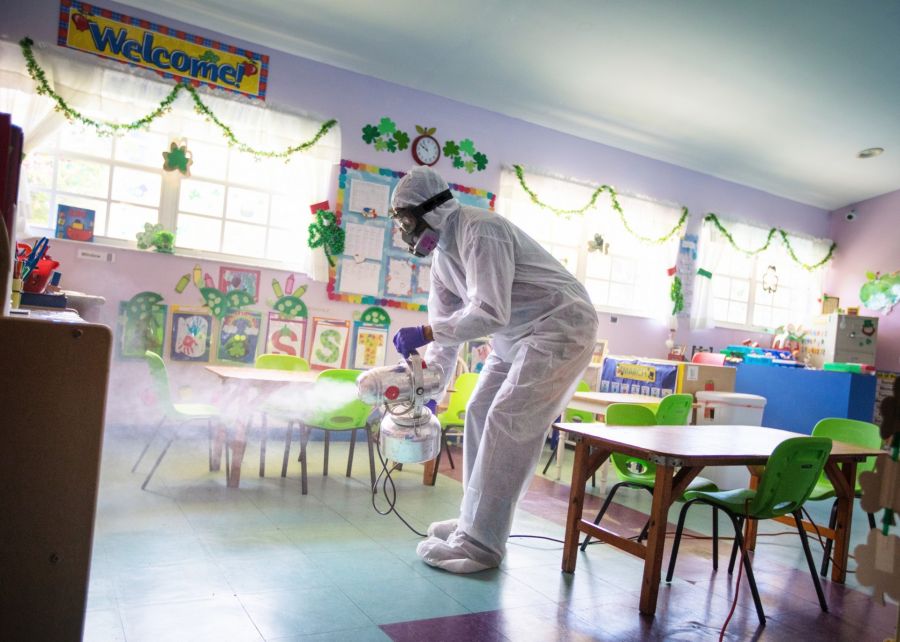 ---
Call for a FREE Quote
---
How to Prevent Spread of Viruses with Flagstaff Disinfection Services
Viruses are not new to Flagstaff areas. Recently we are seeing a rise in numbers. Luckily, the same procedures and tough products that are known to kill bacteria will kill other viruses and prevent the spread of germs in Flagstaff.
In addition to calling Premier Carpet Cleaning for Flagstaff disinfection services, guidelines recommended by the CDC include:
Reducing Spread of Viruses in Flagstaff Workplaces:
Employees experiencing symptoms such as a fever need to stay home.

Frequently clean and disinfect (or call Premier Carpet Cleaning to disinfect) all surfaces that come into contact with people, such as shared tablets, computers, light switches, doorknobs, and faucets.

Use EPA-approved products that can kill 99.9% of bacteria and viruses or call Premier Carpet Cleaning for disinfection services at (928) 216-4976 or to obtain a quick, fair quote.

Keep common areas and restrooms stocked with disinfecting hand soap or alcohol-based hand sanitizer.

Recommend that staff frequently wash their hands by scrubbing with soap for a minimum of 20 seconds.
Why Call Premier Carpet Cleaning for Disinfection Services in Flagstaff?
Premier Carpet Cleaning has provided disinfection services and follows practices outlined by the CDC to keep the spread to a minimum.
Premier Carpet Cleaning's crews are well trained and supervised to comply with proper procedures when cleaning and sanitizing homes and offices.
When an outbreak of a virus is suspected, Premier Carpet Cleaning follows a disinfection protocol designed to kill germs, preventing spread.
These steadfast practices, combined with frequent hand washing, are the best-known measures to prevent the spread of viruses.
---
Call for FREE Disinfection Services Quote
Dial Area Code first please.
---
WHAT CUSTOMERS ARE SAYING:
5★★★★★ - "Hired them yesterday to remove a spot in the carpet left by some construction guys. We did not know what was put on the carpet and that can be a problem because what the spot is effects how you deal with it. Some emotion involved because people where blaming each other, the carpet being brand new. Thane took a look and dealt with it. The spot is gone and people are happy. What else can you want :)"

Mike C., Carpet Stain Removal in Flagstaff, AZ

2019-12-19

5★★★★★ - "Had our 15 year old sofa, ottoman and chair cleaned. Wow! What a difference! The price was extremely competitive and the guys were friendly, efficient and very competent! Would definitely recommend and hire again."

Jen Paul, Sofa Cleaning in Flagstaff, AZ

2019-06-13

5★★★★★ - "Excellent and trustworthy business. I use them for all my carpet and tile cleaning needs."

Chris Miller in Flagstaff, AZ

2018-11-06

5★★★★★ - "As a retired cleaning professional, I looked for an IICRC cleaning professional to use in my new home when I moved to Flagstaff in 2009. Thane Caird is the ONLY carpet cleaning professional I trust to clean my carpets and upholstery. His prices are reasonable and I respect the amount of time and attention he has paid to my needs. Premier is the ONLY company that I could I recommend to my friends and family."

Andy C., Carpet Cleaning in Flagstaff, AZ

2014-10-30

5★★★★★ - "I recently hired Thane Caird at Premier Carpet Cleaning through my corporate account for my business. I was so impressed with Thane and his crew that I've scheduled them to clean my home. AMAZED!!"

Lisa S., Commercial Carpet Cleaning in Flagstaff, AZ

2014-10-30

5★★★★★ - "I had a ice dam leak in Boulder Point. Thane and his partner came over on a Saturday! They carefully cut a hole in my kitchen ceiling and put an air dryer connected to a big yellow tube up inside. On Sunday and Monday they came back to check progress. In just a couple of days the infra camera showed my kitchen was dry. They repaired the hole and my insurance paid the whole thing! I highly recommend Thane for any drying needs you have."

S. N. Palmer, Water Damage Restoration in Flagstaff, AZ

2014-10-30

5★★★★★ - "We had Thane clean the carpet at our biz. He was very professional, easy tonwork with, and available in the evening after we closed. As the owner he obviously takes pride in his work and did a great job on our very dirty carpet!"

Amy H, Carpet Cleaning in Cameron, AZ

2019-06-13

5★★★★★ - "I've been asked to do a lot of things but writing a testimony for mold repairs was a surprise. I'm a nurse and I know a lot about the effects of mold. I see it at work all the time. So when I suspected I had a mold problem in the wall between my kitchen and bathroom I called Thane Caird on the referral of my Realtor and friend Sandy. Thane came down the next day, to Sedona, and carefully determined I didn't just have mold but a water leak in my copper pipes. After hiring my plumber, Thane and his crew built a contraption called a 'containment chamber' around my walls and then removed all the mold and spores, or so we thought. The new mold test determined mold was EVERY place even though he used his air scrubbing machines. In disbelief we ordered a new test and found that the first test was done wrong. Only six parts per million of mold spores were left behind which is even better than what you'd normally find out of doors. These guys are real professionals. They cleaned up their work area, cleaned my carpets and even cleaned the air inside my home with an air scrubbing machine. If you are thinking of hiring someone for a mold inspection, call Premier. These guys are champs!"

Viola Wyman, Carpet Cleaning in Sedona, AZ

2014-10-30
---
Call for FREE Disinfection Services Quote
Dial Area Code first please.
---